"I discovered that there was a tremendous difference between how the best companies produced products and how most companies produced them." - from 'Inspired' by Marty Cagan, Partner at Silicon Valley Product Group
It is not a secret that building a business is hard. It's even harder to build a successful one. Only 10% of startups manage to survive in the long run.
Another problem is when the product fails even before the launch - during its development. There are many risks: getting stuck, getting lost, running out of time, resources, direction, motivation or a host of other unexpected problems.
In this article, we will tell you how to improve your NPD process and how to launch your product faster.
What is NPD?
New product development (NPD) is a process of product creation starting from an entirely new idea to working software that brings profit. It also can refer to reviving an existing product or introducing a product to a new market. This process includes several stages with particular goals.
The NPD process is vital for any company, no matter if it's a startup or an experienced corporation launching another project. NPD helps build a product that has a market and target audience, helps bring profit and avoid uncertainty and failure.
Why NPD is needed
Having defined procedures and milestones, NPD protects you from mistakes and ensures efficient workflow. Satisfactory NPD can make dynamic products successfully and help with the company's growth.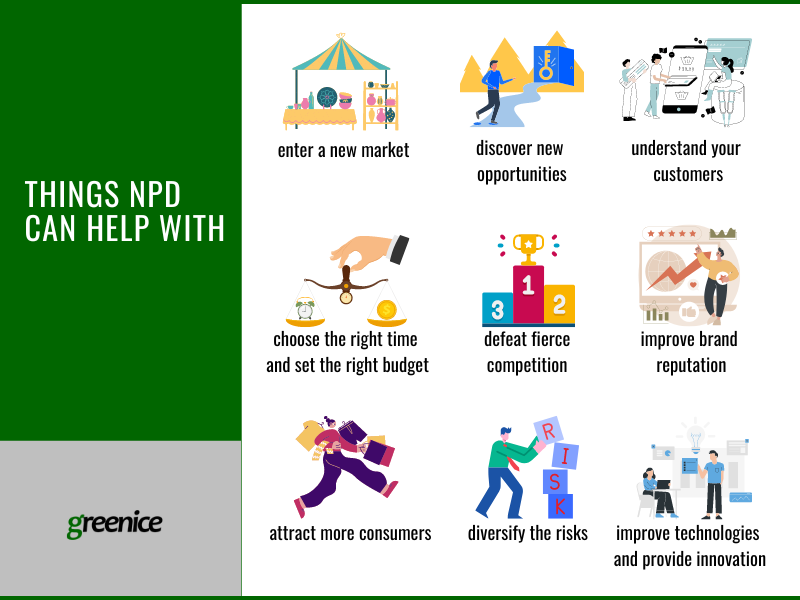 Here are reasons to invest in new product development:
to enter a new market
to discover new opportunities
to understand your customers
to choose the right time and set the right budget
to defeat fierce competitors
to improve brand reputation
to attract more consumers
to diversify the risks
to develop and improve innovative technologies
Some especially successful new product development examples were produced by companies like BBC, Microsoft, and Apple. They've managed to create unique products, enter new markets, and win customers' love.
What are the 7 stages of new product development?
These are the steps in the new product development: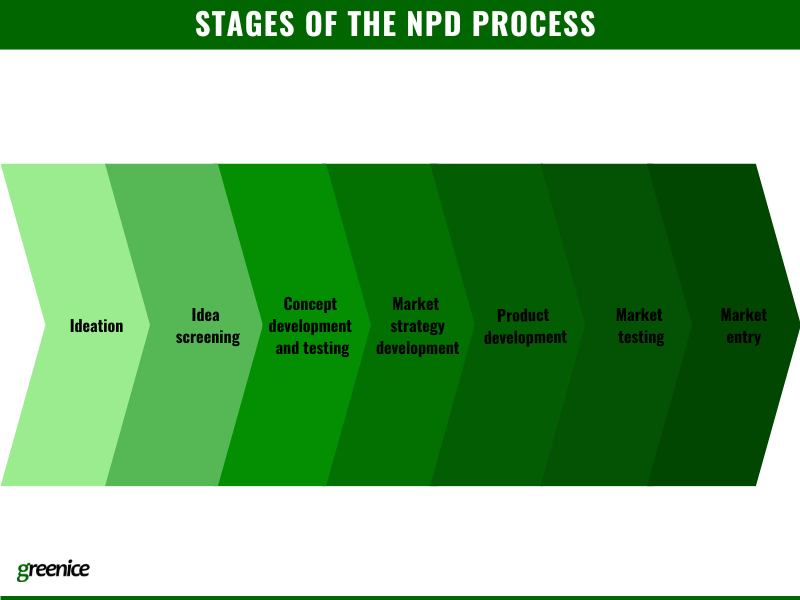 1. Ideation

- During the first stage of the new product development, your team brainstorms ideas ‒ everything is on the table and nothing is discounted. You discuss what the problem is and how to solve it, shaping a vision. There are many tools and techniques like mind mapping and sketching to help you. Ideation usually involves discovery and possible solutions.
During discovery, you collect all the available information on the problem. Oftentimes during this phase, you realize that the problem is already solved or is more complex than you assumed be. In this case, you need to look in a new direction and adjust your point of view until you find something suitable.
After a problem is identified you can create Problem space and Solution space to organize the process. Then you can choose the best solution. The next step is to break the problem into manageable pieces.
Read Also: Discovery phase in software development

2. Idea screening

- The purpose of the screening stage in new product development process is to vet and evaluate ideas using specific criteria (product benefits, complexity, market saturation). Choose the idea with the highest chances for success and ask the opinion of people who have industry knowledge. You also must involve stakeholders in the process.
At this stage you can apply these techniques: Proof of Concept (POC) and SWOT analysis (strengths, weaknesses, opportunities, threats). POC will evaluate the feasibility of your idea and determine whether your product can be built. SWOT will help to evaluate your idea in the context of the market considering its competitors, economic conditions, demand, etc.
3. Concept development and testing - After you focus your efforts on a single idea, you need to develop the concept into a prototype. The first draft of your future product will include a detailed description of the idea, user stories, and value proposition evaluation. It's not a design yet but can give a hint of how everything might look. At this stage, your team has yet to make the final decision whether to proceed with the project.

4. Market strategy development

- It is time to think about how you will reach your TA and earn money on the product. One of the most efficient methods is to combine McCarthy's 4Ps (product, price, place, promotion) strategy with data-driven research. While investigating the commercial side, choose your pricing models which can be cost-based or market-focused. Think about USP, TA, and Brand story.
Read Also: Marketplace business models

5. Product development

- At this stage, you design your product and focus on building the functionality of your app or website. Your team works on the practical foundation of the product. Then, choose the tech stack and code, and figure out how everything is going to work. Your product will probably have alpha and beta versions which you can show to a limited audience, collect feedback, and make improvements.

6. MVP and market testing

- Create a simple version of your product with core functionality to see if it's truly valuable. Make sure that it works smoothly and is adequately promoted so people will want to try it. Then, you can interview customers or provide polls or surveys to collect feedback.
Read Also: What Type of MVP is Right for Your Startup?

Commercialization and market entry

- During the last stage of the new product development process you need to prepare for the launch of the whole product and make it profitable. The marketing team is particularly important at this stage. The main goal is to make your audience aware of the product launch and turn them into your customers.
Seeing so many stages you might wonder if the NPD process can be quicker. Yes! Read on…
Tips on how to speed up product release
"The reality of startup life is that you're in a race to achieve product/market fit before you run out of money." - Marty Cagan
Here is what can stop you from winning this race:
unclear requirements
irrational work distribution with the hardest part left for the end
unforeseen challenges and too many alterations when the work has already started
poor management and communication
Of course, you'd like to launch your product quickly instead of spending years producing it. Early launch can show you market reaction and customers' feedback. Of course, you can even start earning money with your product early on to give you much-needed validation and cash to pay for further development.
We have a lot of experience helping dozens of clients successfully launch their projects. We've also found the best experts on the topic. Here are the best practices to accelerate the launch of your product: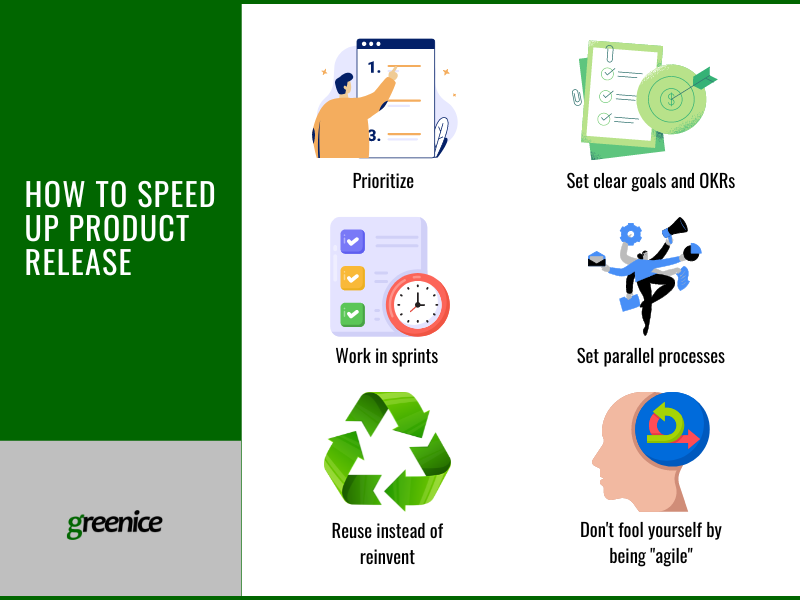 Prioritize
Prioritization is part of the Discovery Phase and it comes right before the development of your product. There is no point in building a complicated product with all the bells and whistles all at once. You risk overwhelming your team and spending all resources before validating the idea.
You need to decide on the core function of your product - just enough to launch the product and get feedback from clients.
Prioritization in new product development is both an art and a science. Ryan Singer, Head of Product Strategy at BaseCamp and author of 'Shape up', shares great advice on how to prioritize features and decide exactly what to build. Here are some principles:
Fixed time, variable scope - start with setting an appetite - what does the team want to build? - and then set time boundaries. It is easier to come up with a solution when you have a vision and a deadline. At the same time, you must remain flexible.
Narrow down the problem - find the cause of the problem and solve it instead of working on the whole system. The goal is to simplify the task as much as possible so the team won't waste time.
Know what 'done' looks like - ambiguity is your enemy! The team needs to know exactly what the goal is. So watch out for improvement, version 2.0, and redesign projects with unclear aims. It pays to spend time working out what the end results should look like.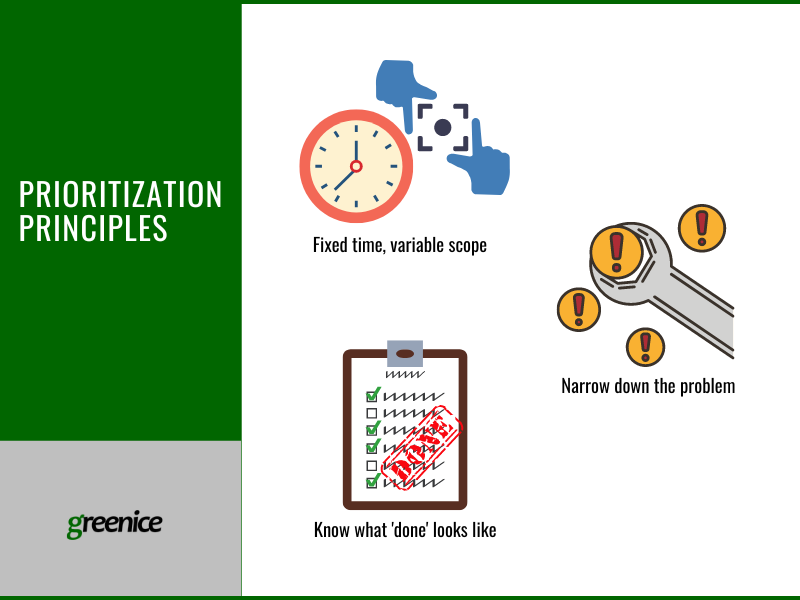 Set clear goals, objectives, and key results
"Vision without execution is hallucination." - Thomas Edison
Once you've decided what you want to build, the next step is to set Objectives and Key Results (OKRs).
Marty Cagan says that many product teams don't understand the big picture of their work and thus struggle to be an empowered team. OKRs are exactly what will help to define goals for each department and help the team see how they contribute to the whole project.
OKRs are a powerful tool that helps set goals and milestones to achieve those goals. This methodology was created by Andy Grove from Intel and then described by John Doerr in 'Measure What Matters'. Today it's used by companies like Google and Netflix to build their product development strategy.
Objectives are what a company wants to accomplish. They are meaningful, concrete, action-oriented, and sometimes even aspiring. Key results are the milestones that the company needs to achieve to accomplish its goal. They are specific, time-bound, measurable, and realistic. It's better to keep a small number of OKRs but make the team accountable for achieving them. You will be able to do a retrospective analysis if the idea fails. To indicate if OKRs are accomplished some companies use "yes/no", while others prefer "red/yellow/green" markers.
Benefits of OKRs
John Doerr describes the benefits of OKRs by F.A.C.T.S.:
Focus - allow a team to set clear priorities
Alignment - align goals with priorities and purposes
Commitment - build commitment by making all the parties work together as they choose and stick to priorities.
Tracking - track the progress to the goal and determine if the team needs to change tactics
Stretching - make team go beyond business-as-usual goals and innovate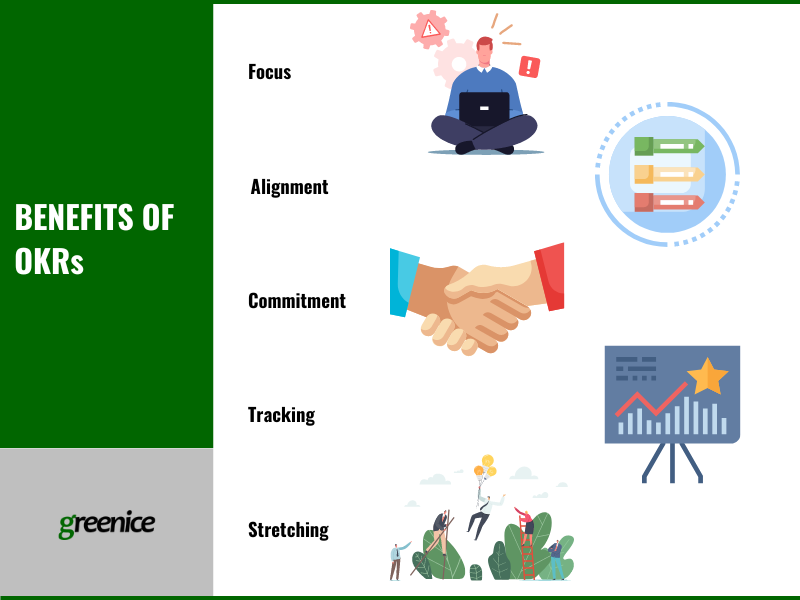 Examples of OKRs for new product development
Let's imagine that a team in the design and development phase needs to work faster and improve their internal processes. Here are some examples of OKRs:
Objective 1: increase feature delivery speed.
Key Results:
reduce average lead time by 30%
reduce bugs-per-feature metric from 1.7 to 1.0
increase sprint team velocity from 32 to 60 points
Objective 2: share team product knowledge with the community
Key results:
post 4 blog articles about product-related processes in the company
participate in 2 local meetups
give a speech at the ProductCon conference next year.
Work in sprints
Having limited time and a narrowed set of tasks can be a great method to work faster and more efficiently. This is why sprints were invented. They let you break down work into small manageable chunks that your team can do quickly. They help you avoid scope creep when the requirements keep changing and piling up causing you run out of resources even before the launch.
There are several approaches to sprints, with the main difference being how much time they take. You can learn from the best and choose the sprint style that works best for your team.
Scrum sprints (originated/described in 'SCRUM Development Process' by Ken Schwaber and Jeff Sutherland) last from 1 to 4 weeks. This method is used by companies like Apple and Spotify to turn ideas into tangible value. The main goal is to turn ideas into tangible value during the sprint.
The shorter the sprint, the easier it is to maintain workflow. Thanks to short sprints and retrospective analysis after each sprint, the team can learn faster and reduce risks. Retrospective analyses (called Sprint Reviews) are inspections to check the progress toward the Product Goal and what improvements can be made.
The rules of Scrum sprints:
changes should not endanger the Sprint Goal
the team participates in scope and sprint planning
quality must remain high
the team is in constant communication with the Product Owner, the person responsible for the new product, to ensure everybody is on the same page
Google's design sprints (from 'Sprint' by Jake Knapp) - last 5 days. This method is used by companies like Google and Facebook. The main goal is to have a working prototype at the end. A team with someone from the client side works for 5 days straight without gadgets until they come up with a solution.
This allows testing of the bare idea before investing significant resources in it. Before the sprint starts, the team must be given a well-defined challenge and space to work in without interruptions. This type of sprint allows you to solve design problems and learn without actually building a product. The sprint is managed by the Sprint Master - this person organizes the process and is in charge of delivering results.
Usually, 5-day sprint looks like this:
Monday - the team creates the path, a long-term goal, and a map for the challenge. They collect information from experts at the company and define the problem to solve.
Tuesday - the team discusses ideas and everyone sketches the vision for the solution. It's also time to find the customers that fit the target profile for the Friday test.
Wednesday - the team discusses solutions and picks the most feasible one. The best proposals go on the storyboard.
Thursday - the storyboard becomes a detailed plan for the prototype. The team focuses on creating a user interface of the product. Then they review the prototype, write an interview script, and everyone confirms their schedule for Friday.
Friday - the team interviews the customers and hears their reactions to the prototype. After this, the team thinks about what's next.
Six-week cycles (from 'Shape Up' by Ryan Singer) last 6 weeks. This method was created and used by BaseCamp. This period is optimal to create something without getting lost in the routine. The main goal is to move the product further without micromanagement. Unlike the classic SCRUM sprints, the team doesn't have strictly defined frames and severe reporting ‒ everyone does their best to develop something from the concept. If the time runs out before any substantial result, the idea is left in the closet. It is not worth wasting resources on it right now.
The expectations for the cycle depend on whether it's a new product or an improvement of an existing one. For a new product, the team first defines the foundation. For an existing one, the team identifies gaps to be filled.
This sprint strategy has an R&D mode for decision-making, a Production mode for development, and a Cleanup mode for final cuts. After every cycle, there is a cool-down period to relax, work on other tasks, and decide what's next.
An important distinction of this strategy is that the manager assigns projects, not tasks, so everyone works on a common goal, not on separate pieces. The team members define their tasks themselves. After they start working, it becomes clear what details were missed and what everyone needs to do.
When thinking about the perfect sprint lengths for your team, keep in mind that it should be:
long enough to accomplish tangible results
short enough to go on without making changes in the sprint plan, but still be genuinely agile.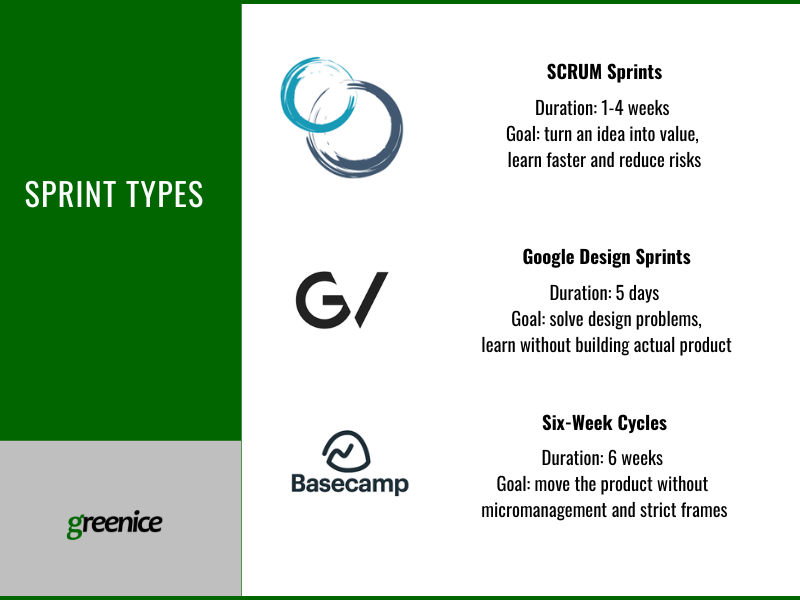 Set parallel processes or automate them
Overlapping a few tasks or even phases (if done right) can speed up development. For example, while part of your team works on design after an iteration, the other part can conduct research or do reliability testing.
Parallel processes not only speed up development, they help avoid mistakes made because some parts of the work are implemented too late. Ryan Singer emphasizes the need to introduce programming and design early, a move that many companies miss. By inviting designers and engineers to the process early, the development will not consist of disconnected parts that must come together only in the end. It will be a well-integrated system.
Marty Cagan, in his book 'Inspired', also says that designers and engineers must take part in development "from the inception of the idea." If design and engineering are developed separately, the product will have an awful appearance (this is frequently a problem among B2B projects), and a flawed system. Moreover, he strongly recommends engaging marketing managers early to introduce the market to the team. How else will they know what customers need?
Marty says that, in general, product discovery and product delivery must operate in parallel. With this approach, the team can build a product that promises to be successful.
Reuse instead of reinventing the wheel
You can, and probably should, reuse things to accelerate your development process. Design, functionality, and services related to your product all can be done with already existing solutions.
What can be reused:
code and software - reuse existing software assets to update the software system. This usually implies reusing the code and its components in different places by merely updating necessary features. This method can reduce development time by 80%. Additionally, such a modular system is easier to manage because you don't need to deal with unique code everywhere.
design and technologies - use templates of pre-made materials. Off-the-shelf solutions are great. They allow you to save time for parts of your work that can't be done with samples - only from scratch. When your business outgrows them, think about turning to custom solutions.
white-label solutions - you can also reuse some services instead of building them from the ground. For example, you can hire a 3rd party to deliver the goods. Other companies will store and ship your goods, provide services, or produce goods for you. Most companies will not even mention their brand name on your product.
Don't fool yourself by being "agile"
You probably don't need any more convincing that an agile approach to new product development is more efficient than waterfall. The problem is that though many companies call themselves agile they are actually not. Their unintentional retreat to the waterfall makes them unable to react quickly and thus it takes an eternity to launch the product, if that ever happens at all. Marty Cagan mentions these mistakes in the development approach:
Ideas come from the wrong place. Specials are sales-driven and products are stakeholder-driven instead of market-oriented. With this approach, there is no team empowerment and team members become faceless executors.
Companies try to begin by stating how much money the product will make and how much it will cost. It's impossible, however, to know this from the beginning. It depends solely on what solution you come up with and how good the end product is. In reality, many projects end up spending more than expected and produce nothing.
Companies make roadmaps as a list of features and become wed to these preliminary plans. The sad truth is that many ideas won't work, and even if the idea has potential, there will probably be several iterations before the product works. Additionally, roadmaps must focus on the outcome, while many focus on the process itself.
Tardy implementation of product management, design, or engineering. Without consultation of these three elements from the beginning, the whole project is missing a solid base and sometimes doesn't even make sense.
Focus on the project rather than on the product. Companies get so overwhelmed with doing work by the deadline that they forget about the importance of the actual outcome of the work. They just work for the sake of checking things off.
Customer validation is left for the end when most of the product is already developed. This often results in a product that no one asked for.
Opportunity cost is lost on poorly organized product development. The companies have not just wasted their time and money on unnecessary products, they've wasted resources that could have been spent on something meaningful.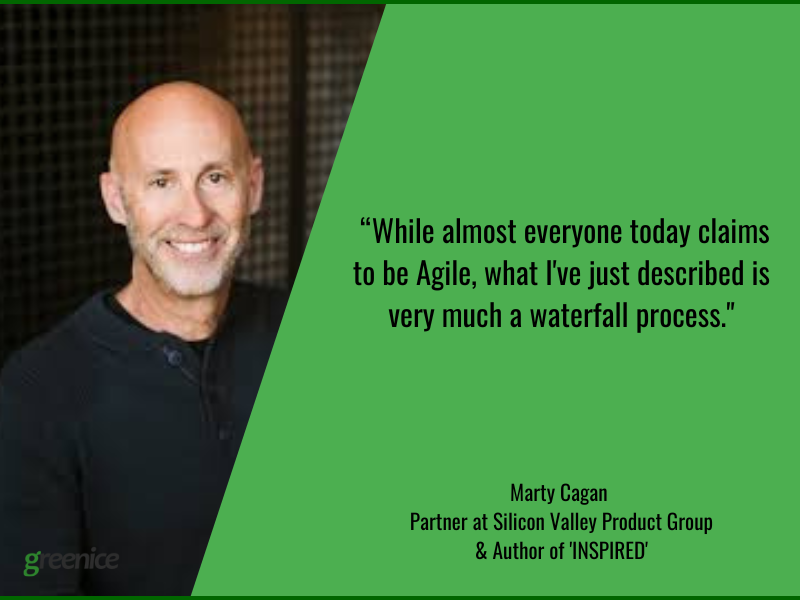 Marty also points to another problem. While strong tech companies are focused on consistent product innovation, they ditch many initiatives that can be potentially risky or have too many obstacles. As a result, it becomes impossible to actually work in a new direction.
In reality, it is harder than it seems to stay agile. You want to make one more tiny change, and so do your colleagues. You want to make it perfect before showing it to customers. It is not easy to stay with the agile framework, but it is so worth it.
Conclusion
New product development might look complicated, but it will lead you through every stage of product creation in a well-structured manner and save you from failure.
Another challenge is that product development is usually time-consuming. If you want to accelerate your NPD, here are the best practices:
prioritize
set clear goals and OKRs
work in sprints
set parallel processes
reuse instead of reinvent
be truly agile
Find the right people and techniques that work for you, or trust your idea to an experienced team, like Greenice, who will make your wildest dreams come true.
Want to build a product that will conquer the world?
Contact Us
Rate this article!
You should be
logged in
to be able to rate articles