How to Take Full Advantage of Web Push Notifications?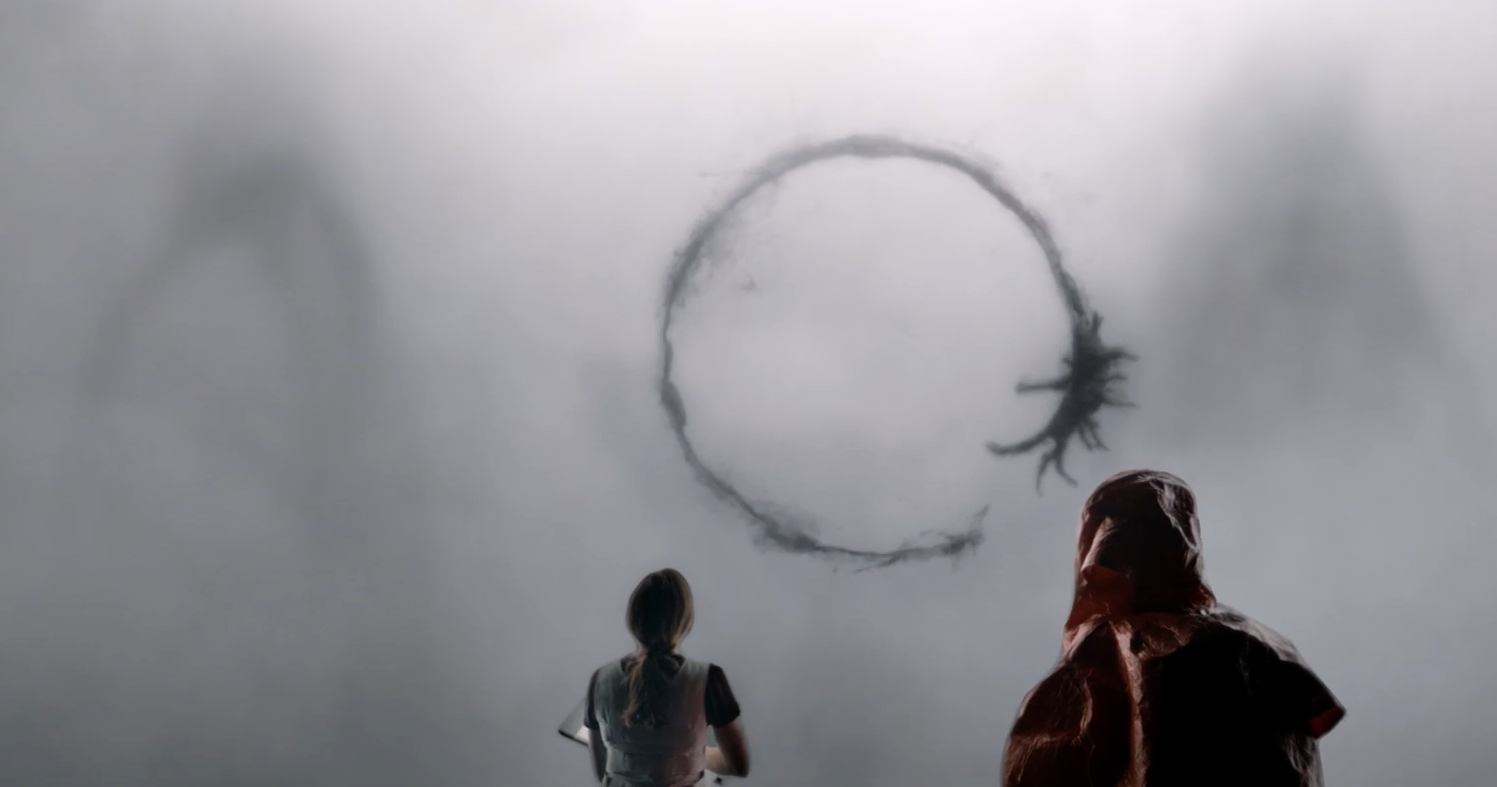 Acquiring new customers is up to 25% more expensive than retaining new ones (Harvard Business Review).
Return users and customers can be a particularly healthy profit source for virtually any business. Website owners use a lot of strategies and tools that help bring those users back.
For years, entrepreneurs have been re-engaging users with emails, SMS and mobile app notifications, now there is one more tool - web push notifications.
This article will take you behind the scenes of websites with push notifications, explaining how everything works and how others leverage this tool to see great results.
What Are Web Push Notifications?
Imagine that your website could 'communicate' with its users before they open it and before they even open their browsers?
That is exactly what web push notifications do.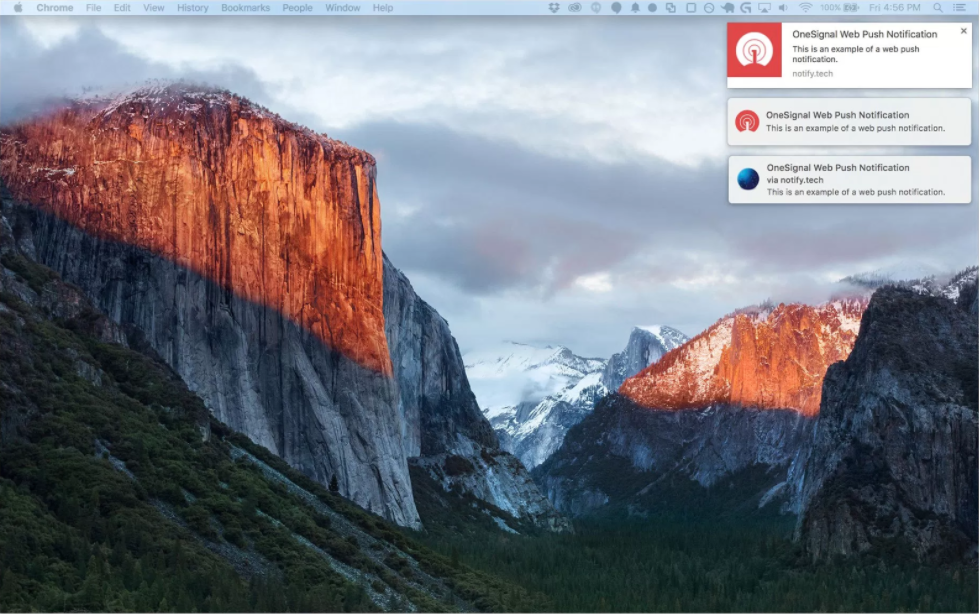 These are messages that users receive from websites they've previously visited (more technical definition here). The notifications are basically the same as the ones that we get from mobile apps, the only difference is that web pushes are sent from websites and can be received on both desktops and mobile devices. Just like with mobile app notifications, you can receive push notifications from a website without having to open it or a browser.
Anatomy
Here is what the whole process looks like for a user:
1. You are asked to allow or block notifications
As soon as someone arrives on a website, an opt-in box is triggered. If the visitor clicks on "Allow," he/she is added to the subscriber list.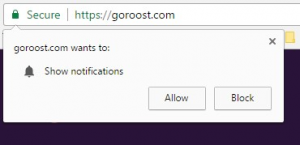 2. If allowed, notifications are sent to all devices regardless of whether the website is open or not
The notifications themselves work exactly like mobile ones. Users can receive them on schedule or trigger basis.

3. Users can opt-out any time
You can always block them in a number of ways, but probably the simplest way is to go into settings of the notification that annoyed you.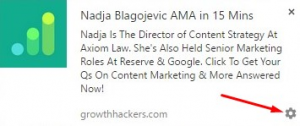 Browser Support
Web push notifications are also called browser push notifications because they are enabled by browsers. However, not all browsers support this technology:
Desktop push notifications: Safari, Chrome, Firefox, and Opera.

Mobile web notifications: Chrome, Firefox and Opera.

Although Apple was the first one to introduce the new technology in Safari for Mac users (back in 2009), Safari notifications are still not available for iOS (iPhones and iPads).
Much later, in 2015, Chrome rolled out support for push notifications, then followed Firefox and Opera. The latter two browsers used the same technologies that Chrome developers have built to support web push - Service Workers and App Manifests.
Internet Explorer and other more niche browsers don't support these technologies at all.
Notably, Service Workers and App Manifests, as well as push notifications themselves, play an integral part in Progressive Web Apps, which are websites with features of mobile apps (learn more on that in our article "Does Your Business Need a Progressive Web App?").
Technical Implementation
When it comes to implementing push notifications for web apps and websites (including HTML5 push notifications), you can either build your own solution or integrate your website with one of the third-party providers.
According to BuiltWith, the most popular third-party services that website owners use are:
OneSignal (55% market share)
PushGrew (33%)
Roost (13%).
Which way to go will depend on your situation. Ready-to-use services cover the needs of most projects, but not all. There might be a situation when you need a custom solution that your developers can build with technologies like PHP and MySQL.
For example, Meduza (News for Russian and Ukrainian speaking audience) had to develop a custom solution, because of the speed challenge. It is very critical for Meduza that its subscribers get their news faster than from any other rival website and none of the existing third-party providers could guarantee that.
What Benefits Can You Expect?
Early adopters have been able to see really great results from their investments in the new technology:
Facebook has implemented web notifications right after the Chrome support release and saw an impressive increase in monthly active users.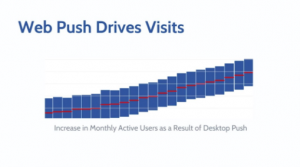 Beyond The Rack, a famous New York-based online store has also achieved nice results with web pushes.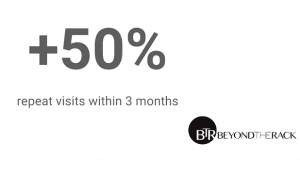 Track.in, a leading Indian news platform, has been able to attract more subscribers in 6 months with web pushes, than in 4 years with email.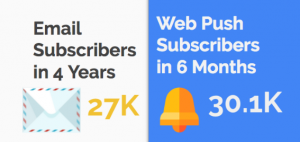 How do Web Pushes Compare to Other Re-engagement Methods?
PushEngage created the following chart to illustrate what the communication funnels look like for web push notifications and email.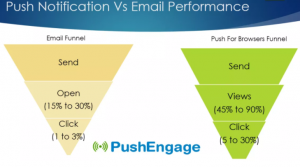 The new channel won't replace others, at least not yet, but it does have some important advantages:
Independent of device type: web pushes can be shown on all devices, while mobile app notifications work only on mobile devices. This means that web pushes cover a larger audience (42% of internet time is spent on desktops).
Better opt-in rates: When opting-in to the web pushes, users don't need to give up any personal information (email, phone number, etc.), as opposed to email and SMS channels. This low barrier naturally leads to better opt-in rates of over 40%, which is 10X higher than with email.
How to Make It Work?
It is useful to remember that when a user is giving his consent to viewing your communications, he issues a credit of trust to you. Users expect to get value and you have to live up to their expectations, not take advantage of their trust.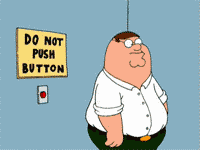 Push notification is just another marketing channel, which means that marketing rules that apply to other channels apply to it too. The success will mostly depend on how well you understand your audience and how targeted your messages are.
You will become an annoying distraction unless you can give a good answer to the user's question: 'Why do you send it to ME and why NOW?'.
Here are the most important things that will help you get the most out of the new channel:
Don't overdo it: a surefire way to make your users hate you (and unsubscribe) is to overwhelm them. The tolerable amount will, of course, depend on the context, but app notification stats say that receiving between 2 and 5 notifications in one week would cause 46% of respondents to disable notifications.
Be relevant: the other way to annoy your users is to send them non-personalized irrelevant content. You can avoid that by segmenting your audience based on their interests and on-site behavior.
Be timely: it is also useful to keep in mind the 'instant nature' of this channel of communications. Offer something that will be particularly useful at the exact moment it is presented.
7 Ways to Use Web Push Notifications
Business owners have found this medium to work across industries:
1. News: news websites like The Washington Post, send 'regular' and 'breaking news' notifications to their subscribers.

2. Social networks: Facebook notifies their web users of all activities (likes, shares, messages..) of their network.

3. Time-bound offers: e-commerce websites of all kinds use pushes to urge their users to an immediate action with their time-bound offers.

4. Personalized offers: e-commerce websites cross-sell and upsell based on users' interests and on-site behavior.

5. Shopping carts 'come back': another way for online stores to use this powerful tool is to reduce shopping cart abandonment.

6. Content marketing: at the most basic level companies use the channel to inform users about their content updates. Ninja marketers send out links to content that is particularly relevant to a user, based on a buying stage he/she is currently in.

7. Internal use: Various business automation web apps utilize the tool to inform users of things that require their immediate attention. For example, Zendesk, which is used to automate help desk operations, notifies employees about customer tickets.

Conclusion
Web push notifications can be a great addition to your communications strategy aimed at returning users to your website. Companies of all sizes, including Facebook, have seen good results with this tool.
When compared to other marketing channels like email, app push notifications, and SMS, web push notifications show good reach, high opt-in rates, and CTR.
When compared to other marketing channels like email, app push notifications, and SMS, web push notifications show good reach, high opt-in rates, and CTR.
As with other marketing channels, to take full advantage of web pushes, you have to use them wisely. Do your best to be useful, segment your audience and personalize your messages to see maximum results.
The best applications of this medium so far are: news, personalized and time-bound offers, shopping cart 'come back', content marketing, and business apps to notify users of things that require immediate attention.
Get FREE quote for your custom website.
Contact Us
---
Author: Kateryna Reshetilo is a Head of Marketing at Greenice web development agency. She is responsible for uncovering new market opportunities in the eCommerce, Healthcare and eLearning spheres. Kateryna also crafts and oversees the execution of marketing strategy at Greenice. When off-duty, she is a loving wife and mother of a cute 8-year-old boy. She is also passionate about climbing and windsurfing!